Internationalisation report 2021 - FOCUS ON INTERNATIONALISATION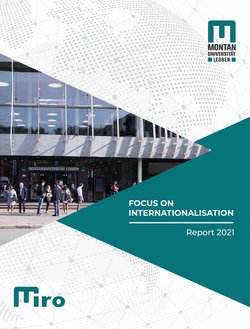 MIRO published the new internationalisation report in May 2021. In this report, we wanted to give an insight into the many international activities at the Montanuniversität Leoben
See for yourself the great diversity of the international activities of the staff and students of our university! Thanks to your numerous photos and contributions, it was possible to present the international issues at Montanuniversität in a varied way and from different perspectives.
Each department received two print copies in German and English. Feel free to order additional copies from MIRO for yourself and your network partners.
Montanuniversitaet Leoben receives Erasmus Charter
MUL has received the ERASMUS CHARTER FOR HIGHER EDUCATION (ECHE) for the new program period 2021-2027. The ECHE is the requirement for European Higher Education Institutions to be able to participate in the Erasmus Program; this includes all types of fundings for mobilities and projects. The ECHE also defines the general quality framework for cooperation activities under Erasmus and it has a validity of seven years. Applying for and receiving the Charter also implies a commitment to the principles of the Charter. This means that the MUL commits to implementing the principles enshrined in the program, such as non-discrimination, transparency, integration, equal access for all, automatic recognition of ECTS credits, no charging for fees in the course of mobility and to guarantee the quality of mobility activities and projects. In addition, the program's priorities should be considered: Digitalization, Green Erasmus, Inclusion and Civic Engagement.
MUL has already participated successfully in the Erasmus program in the past years due to the ECHE. For the new Erasmus+ program period 2021-27, all Higher Education Institutions across Europe had to apply for the renewal of the Charter in spring 2020. Montanuniversitaet International Relations Office (MIRO) applied for the new Charter and the results were published by the Executive Agency for Education, Audiovisual and Culture based in Brussels at the end of December 2020. MUL was also successful with a maximum number of points achieved, thus demonstrating strong commitment and dedication to participate in this unique and successful over 30-year-old higher education program.
Find more infos here (only available in German): https://oead.at/de/aktuelles/artikel/2021/01/erasmus-hochschulcharta-eche-ergebnisse-2021-27-veroeffentlicht/
Erasmus Days 2020
After a year of ups and (Lock)downs, uncertainties and challenges we were still very lucky to host our #erasmusdays event in 2020.
We went hiking and explored an important part of Leoben's history at the same time: For 238 years, until 1964 active coal mining was carried out in Seegraben, making the mine one of the oldest in Austria. The hike along a path, which leads around this former coal mining area was guided by an expert who knows the places histroy. A interesting and yet very different #erasmusdays event 2020 and we are happy we were able to organize it before measures were tightened again.
Check out the video to our event on our Youtube Channel:#erasmusday2020 at MUL