More Grants & Scholarships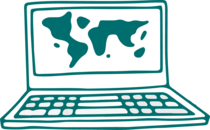 In addition to the Erasmus+ mobility program and the university's own grants, there are many other ways to finance a stay abroad. Information about the Marshall Plan Scholarship and CEEPUS can be found on this page.
Further scholarships and funding options can be found at:
The Marshall Plan Foundation provides scholarships for students, who plan a research stay at an U.S.–American university. Applications are made through MIRO.
APPLICATION REQUIREMENTS
- Successful completion of first 2 semesters of Bachelor's program (60 ECTS)
- Research/Writing of an academic paper. For example: seminar paper, (parts of) Bachelor-, Master, or PhD Thesis
DURATION OF STAY:
At least 3 months - max. 12 months
SCHOLARSHIP AMOUNT:
€4.000 - € 10.000 (depending on length of stay and research project)
IMPORTANT NOTES:
The university where the research stay takes place does not have to be a partner university of MUL. Any U.S.-American university is eligible.
The Central European Exchange Programme for University Studies is a transnational, central-European higher education network, which consists of various subject-specific sub-networks.
Our CEEPUS Partner institutions:
Poland: AGH Krakow
Croatia: University of Zagreb
Serbia: University Belgrade
Slovakia: Technical University Košice
Hungary: University Miskolc
Application requirements
APPLICATION REQUIREMENTS:
Successful completion of first 2 semesters of Bachelor's program (60 ECTS). For visiting Master level courses abroad: successful completion of first 4 semesters of Bachelor's program.
PURPOSE & DURATION OF STAY
- Full-time study: 3 – 10 months
- Parts of Bachelor-, Master- or PhD thesis : 1-2 months
- Summer Schools: 6–20 days
- Excursions: 3-10 days
MOBILITY GRANT
- 150 – 325€/month funded by host country
- Monthly mobility grant funded by Austrian ministry (for a duration of at least 2 months)
- Travel support funded by Austrian ministry